A-BRAND Log Village
~ Golf Green View, Log Village ~
The blue skies of Yoichi, the blue sea, be embraced by the clear ear of the forest and create a
lot of fun memories with your family, friends, as well as your dog.
※If you wish to stay with a pet, please inform the front desk.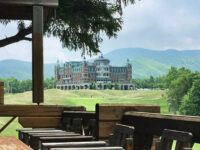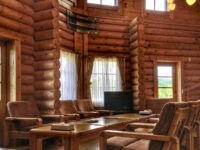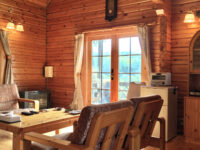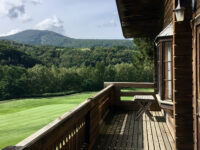 *

Price of Log Village
-Various sizes -Huge Accommodation-
| Type | Occupancy | Weekdays | Day before a holiday |
| --- | --- | --- | --- |
| A | 3 – 7 persons | 20,000~35,000 | 24,000~42,000 |
| B | 8 to 14 persons | 40,000~60,000 | 48,000~72,000 |
| C | 20 persons | 70,000 | 84,000 |
As an option, there is a plan where you can also use a griller and a chair set.
※ All log houses are charged as 1 building.
※As separate garbage disposal fee, adults and children cost 300 yen per person.
※8/1 (Monday) -8/14 (Sunday) Obon fee (the day before holidays).
※Option
One griller for 4000 yen
Chair table set is 300 yen and is good for one person only.
※We also have a log village where you can stay with your dog. (Please contact us in advance.)
※2,200 yen per pet Capacity is up to 5 pets. Please contact us in advance if it would exceed
6 pets

Accommodation at the Log Village
~Hoshi ga Kirei 1 Night Minimum Plan~
It is a plan without meals that you can spend freely.
Please enjoy the great nature feeling like you are in a cottage.
As it is room accommodation only with no meals, please bring food and seasonings etc.
We also have plans so that you can spend time with your pet dog, so please contact us at the
time of application.